You're receiving this email because you subscribed at the author's site or shopped at JCPBooks.com and indicated you'd like to receive marketing. Click here to unsubscribe *|MERGE0|* from this list
Flying High...
Dear reader,
I had so much fun posting The Starving Years and Magic Mansion to the newsletter! But I'd been itching to find time to get back to my regular series, since PsyCop readers are climbing the walls.
So, I began thinking about making my monthly freebie shorter, and also more widely available so it might draw in new readers. I reasoned that if I could produce it in three days per month, that would leave me almost four weeks to work on my "regular" stuff.
I had an idea for a fluffy series of short, punchy novelettes about what might happen in the Bermuda Triangle, and Turbulence is the resulting series...and, wouldn't you know, it's not fluffy to write at all. The research for it has been insanely demanding and it's easily as time-consuming as anything else I've ever written.
However...the research has been fun! To get myself a jump start in aviation, I went up in the little red prop plane pictured above and took a spin over Madison. There's one of the lakes I mentioned in Mnevermind. Plus a wing, with a valve-thing underneath. Or maybe a light. Actually, I believe it's an airspeed sensor, now that I look at it. Anyway, you probably don't want me flying you anywhere unless it's the zombie apocalypse and there's no one else left alive to attempt it...
The instructor had me actually fly the plane, by the way. And not just taking the yoke for a few seconds once we were already in the air, either. He made encouraged me to do the takeoff, ascent and all the turns. Holy hell.
While the majority of my brain was going, "Eeeek!" and the tower sounded like "blah blah blah" I think I managed to pick up a lot of details and ambience from the experience that I wouldn't have been able to glean from a book or a website.
Which is not to imply that books don't have their uses. The book Your Pilot's License that I checked out from the library is full of creepy handwritten right-wing political ranting in the margins...which is inspiring in its own icky way.
I hope you enjoy Turbulence 1: Into the Bermuda Triangle, and encourage all your m/m-loving friends to give it a whirl. It's available on JCP Books and Amazon at the moment, and should be winging its way to several online retailers via Smashwords distribution channels shortly. (Find out about the making of the cover on my LiveJournal)
---
Mnevermind 1
THE PERSISTENCE OF MEMORY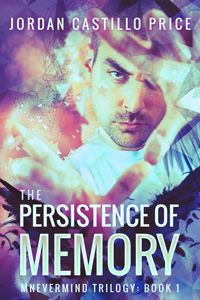 Every day, Daniel Schroeder breaks his father's heart.
While forgetting your problems won't solve them, it does seem like it would make life a heck of a lot easier. Daniel thought so once. Now he knows better. He and Big Dan have always been close, which makes it all the more difficult to break the daily news: the last five years were nothing like his father remembers.
They're both professionals in the memory field—they even run their own memory palace. So shouldn't they be able to figure out a way to overwrite the persistent false memory that's wreaking havoc on both of their lives? Daniel thought he was holding it together, but the situation seems to be sliding out of control. Now even his own equipment has turned against him, reminding him he hasn't had a date in ages by taunting him with flashes of an elusive man in black that only he can see.
Is it some quirk of the circuitry, or is Daniel headed down the same path to fantasy-land as his old man?
THE PERSISTENCE OF MEMORY IS THE FIRST INSTALLMENT OF A TRILOGY
Mnevermind 1: The Persistence of Memory is available in PDF, ePub and Mobi at JCP Books
Now in Paperback
Magic Mansion is available in PDF, ePub and Mobi at JCP Books
Amazon for the Kindle
B&N for the Nook
Paperback edition is available on Amazon. (It says "out of stock" but I think it would ship very soon.) If you loved the online serial, why not revisit it in paperback? The interior typography is my favorite so far of all the paperbacks I've created. Very understated and elegant! It should also be for sale at The Book Depository shortly.