You're receiving this email because you subscribed at the author's site or shopped at JCPBooks.com and indicated you'd like to receive marketing. Click here to unsubscribe *|MERGE0|* from this list
Summer Vacation
Dear reader,
It's summer...time for vacations! Earlier this month I met my dad and stepmom in Washington DC for five glorious days of looking at stuff, walking between stuff, and eating stuff.
There's so much to do in DC it's overwhelming, but I can narrow attractions down to my top three pretty easily.
Monuments at Night
Of course you're gonna take in some monuments if it's your first tourist visit to DC. (I was there as a child, which really doesn't count.) The Washington Monument was currently closed due to earthquake damage. I was pretty jazzed about seeing the monuments at dusk, though, and watching the light change as the sun set was magical.

We took an open-top twilight bus tour which worked well. It saved us from needing to drive or figure out a cab. Here's my dad with Martin Luther King's engraved words lighting up as night fell.
Smithsonian Native American Museum
Sadly, I only saw two levels of this museum. The architecture was stunning, and everything seemed so well-considered. Again, light played an important role in my experience here. That makes sense, since vision is the perception of light.
This is actually the back of a display and a red glass column. I've never been so impressed with the feel of the interior of a museum as I was with this one.
Madame Tussuad's Wax Museum
In a city where all the museums are free, does it make sense to go to one you have to pay for? HELL YES, this museum was super fun. What I hadn't anticipated was that all the figures were at the same level as the visitors, and the visitors could walk among them and interact with them. You'll find a picture of me in the sidebar with Jimmy Carter. I had an idea I could try to imitate the expressions of all the presidents as I took a snapshot of myself with them...and that one was the only shot that was even vaguely successful, ha ha!
That's me seeing if I can blend in with wax secret service men outside the Oval Office. I thought my CIA hat would be a little more effective camouflage.
We logged 18,000 steps one day, and ate at a Brazilian restaurant where waiters swarmed us with barbecue. And even though it tuckered me out, I feel like there's so much more I didn't get to see. I suppose that's better than coming away thinking, "Is that all there is??"
On my flight there, I had a female Captain and a male First Officer, so I was absolutely giddy watching him to the pre-flight check. (Unlike Paul Cronin in Turbulence 1, he didn't find an alarming dot on the ground. Which was good.) Unfortunately, I didn't have a flight attendant quite as fabulous as Dallas, though they were pretty cheerful. On my flight back it was wicked early and I wasn't quite awake yet ;-)
May your summer ventures be fascinating and fun, and your flights never malfunction!
---
Now in Paperback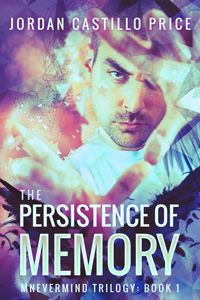 Every day, Daniel Schroeder breaks his father's heart.
While forgetting your problems won't solve them, it does seem like it would make life a heck of a lot easier. Daniel thought so once. Now he knows better. He and Big Dan have always been close, which makes it all the more difficult to break the daily news: the last five years were nothing like his father remembers.
Mnevermind 1: The Persistence of Memory is available in PDF, ePub and Mobi at JCP Books
Paperback edition is available on Amazon, Amazon.co.uk, Amazon.de, Amazon.fr, and the Book Depository
---
Fluid Second Edition
It's been a couple of decades since Wild Bill has been able to savor the bite of an ice-cold, freshly tapped keg. Twenty-odd years since the shivery pucker of a cheap, boxed wine has assaulted his palate. But that doesn't mean Bill's forgotten how to party.
Fluid (Channeling Morpheus 8) was originally published as Sweet Oblivion: Fluid in 2009.
Read an excerpt, view a larger cover or purchase at JCP Books (mobi, PDF, or ePub)
Fluid is included in the 2011 paperback A Bitter Taste of Sweet Oblivion (Amazon - The Book Depository)