You're receiving this email because you subscribed at the author's site or shopped at JCPBooks.com and indicated you'd like to receive marketing. Click here to unsubscribe *|MERGE0|* from this list
Take a Hike!
Dear reader,
This summer I set a goal to hike every trail in a local park by the end of June. Then the temperature soared up over 100 and stayed there, and I said, "Forget it."
This morning, even though it was past my deadline, I decided to see if I could make any headway on my goal. The hot, dry weather might have made for some sweaty hiking, but the bugginess was not too bad. And when I hit the lower points of the trails, I remembered all the times I'd slogged through them and sunk up to my ankles in mud. Not anymore, nice and firm.
For the heck of it, I brought along my Garmin GPS unit, which has a "pedestrian" mode. It didn't show the park trails, but it did show my position in relationship to the park outline quite well. Between the GPS and my map, I always knew where I was. This made me more adventuresome, and I decided to make really big push on my "every trail" goal by doing two of the long trails that connect. I think knowing where I actually was made it easer to say, "Sure, I could walk for another hour," rather than wondering whether my finish line was minutes or hours away.
I also brought my iPad, which I snapped these pictures with. If any butterflies or birds had stayed still long enough, I could have tried to identify them with my Audubon apps. But they didn't. And I don't need an app to identify a squirrel! (If anyone knows what that curly orange flower is, shoot me an email! I've never seen one like it.)
What about you, do you have anywhere interesting to walk? If you've been thinking about adding more walking to your daily routine, you could get motivated by thinking not only about the obvious physical perks, but the mental and emotional benefits you'll get from adding a few good walks to your week.
According to Arthritis Today, walking not only releases endorphins and lowers risks of dementia and Alzheimer's, it also helps you sleep better.
There are creativity benefits, too. Psychology Today claims that many great thinkers from Freud to Rousseau walked in search of inspiration. This article suggests mindful walking as a powerful tool for finding inspiration and solving problems.
One thing to keep in mind: if you're on a downward slope and you're thinking, "Hey, this is pretty easy!" it's likely you'll find yourself slogging back up that slope at the end of your hike! Make sure you save a little mojo for that final push.
---
What Readers are Saying
These awesome readers left feedback for Mnevermind I on Amazon. Thank you so much! Because I self-publish, good reader reviews are especially important for me.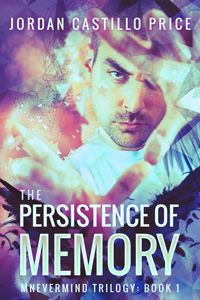 I read it in one long go, shifting from the chair to the bath to the bed--I just couldn't put it down until I figured out what happened next. (T. Gray)
The world building around the mnems (virtual memory trips) is fascinating and the description of the mnems themselves is totally mind blowing. (Johanna)
I love the gritty contemporary realism that anchors this story. There are some amazing ideas here, but you'll never feel like you're reading science fiction. (Val Kovalin)
Price has a way with characters. She has a way to create characters and situations you would never see in any other book. Anyone can create a world, but not everyone can populate that world with believable people. (Renee)
As always secondary characters shine - ALL of them, male and female. (Sirius)
Mnevermind 1: The Persistence of Memory is available in PDF, ePub and Mobi at JCP Books
Paperback edition is available on Amazon, Amazon.co.uk, Amazon.de, Amazon.fr, and the Book Depository
Did you enjoy Mnevermind? I'd love it if you left a review on Amazon!