You're receiving this email because you subscribed at the author's site or shopped at JCPBooks.com and indicated you'd like to receive marketing. Click here to unsubscribe *|MERGE0|* from this list
Stories are Everywhere
Dear reader,
My time in the UK was absolutely magical. It began with the UK GLBTQ Fiction Meet in which a whole slew of readers and writers met and mingled in Brighton. It was a quirky city filled with winding lanes and fascinating shops, edged by a pebbly beach, topped off with a fabulously cheesy pier full of arcades and amusements.
I then spent some time in London, where I toured the bridges, drank the ale, and soaked up a bizarre range of medical oddities at the Wellcome Collection.
And the whole time I was away, story after story after story kept popping into my head. I don't think it was necessarily due to the fact that I was a stranger in a strange land. Being out of one's comfort zone seems just as likely to bring anxiety as it does inspiration.
No, I think it was the company I was keeping.
I was able to meet fellow authors and connect with them about what moves and inspires us to write.
I was able to connect with so many wonderful readers too, and we could simply hang out together and relax.
In this atmosphere of trust, security and friendship, the story ideas began to crop up everywhere. Take these guys with the glass case. As Clare London and I browsed our way through the narrow, maze-like Brighton lanes, it seemed that every time we turned a corner, four guys in blue shirts moving a glass case would sidle past. Why--someone became allergic to the fish he'd been keeping? What was inside the cases now--antique air? What would be kept in them once they were at their new location--an invisible menagerie?
Pretty soon it seemed like there were plots everywhere. We couldn't turn around without tripping over a plot.
Granted...you don't see something this puzzling every day. But I think it was the convivial atmosphere of acceptance that prepared the kindling. That kindling was then able to flare to life at the tiniest spark of an idea.
Until next time...be inspired!
-Jordan

---
Elixir 2nd Edition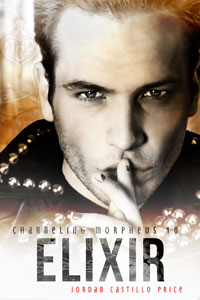 The second edition of Elixir launches in just a few days. To celebrate the completion of the series, I'll also unveil a new Channeling Morpheus short fic titled Jackpot.
In addition, I'll have a bundle for ebooks #6-10 and a megabundle of all the Channeling Morpheus titles available. Sign up here for JCP Books Quick Links if you'd like an email when the ebooks hit the shelves.
Elixir appears in the paperback A Bitter Taste of Sweet Oblivion
at Amazon.com

at Amazon.co.uk
at Amazon.ca
at Amazon.de
at Amazon.fr
at Amazon.co.jp
Free Game
If you are a fan of strategy games like Sim City, try the Wellcome Collection's online game High Tea, where you play a British smuggler trading opium in China to supply your countrymen back home with their daily cuppa!