JCP Books, LLC
m/m paranormal & horror
Weird and wonderful ebooks you'll want to read again and again!
find a book
Problems navigating? Click here for a list of all ebooks by title
Enter your own search term:
Loading
Purchase
JCP Bookstitles are available at:
Amazon.com
for the Kindle, BarnesandNoble.com for the Nook, the iTunes store for IOS,
and Smashwords in a variety of formats.
Gift Shop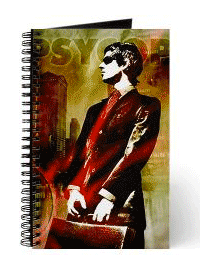 The JCP Books Gift Shop at Cafe Press is now open. Come check out the merchandise.
Questions?
See our FAQ page!
Don't Miss a Thing!
New PsyCop Shorts
Wood by Jordan Castillo Price
Series: PsyCop #3.2
Length: Short Story - 3000 words
Cover artist: Jordan Castillo Price - see larger cover
ISBN: 978-1-935540-82-3
RELEASE DATE: FEB 23, 2016
$.99
Preorder Wood at the following places:
Victor Bayne might not be handy when it comes to carpentry, but if there's one tool he does know how to wield, it's the tiny metal doohickey that comes with ready-to-assemble furniture from SaverPlus.
The shelves aren't for the cannery—Vic would never manage to sneak cheap pressboard and veneer past Jacob's watchful eyes. Jacob's Uncle Leon, however, is nowhere near as fussy. And since he's only got one arm, he'll need help putting together his new treasure.
It's no surprise to find the instructions baffling and convoluted…but were they always so disturbingly dirty?
This PsyCop interlude is a cute, sexy romp that will delight readers who've enjoyed the series through PsyCop #3, Body and Soul.
Memento: A PsyCop Short
Series: PsyCop #6.2
First Electronic Edition
Length: Short Story - 5,000 words
Cover artist: Jordan Castillo Price - see larger cover
ISBN: 978-1-935540-81-6
$1.99
Purchase ebook at Amazon - BN - iTunes - Kobo
Seasons change, and so do fashion trends. But in this heartstring-tugging PsyCop short, what's beneath the clothes matters most.
Do clothes make the man? Jacob Marks cuts an impressive figure in his tailored suits, but Victor Bayne is another story. Nowadays, Vic does his ghosthunting in off-the-rack blazers, polyester blend slacks and cop shoes with nonskid soles. But back before he was a PsyCop—or even officially psychic—he rocked combat boots and a beat up biker jacket…and lots and lots of punk T-shirts. When he finds a faded tee in the back of a drawer, he's eager to lob it in the trash. Jacob, however, finds himself waxing sentimental about Vic's younger, more carefree days.
This steamy 5000-word PsyCop short in Jacob's voice takes place after PsyCop #6, GhosTV.
New Anthology Charmed and Dangerous, edited by Jordan Castillo Price
Series: Anthology
First Electronic Edition
Length: Novel - 180,000 words
Cover artist: Jordan Castillo Price - see larger cover
ISBN: 978-1-935540-80-9
Purchase ebook at Amazon - BN - iTunes - Kobo - Smashwords
Paperback at Amazon
Magic takes many forms. From malignant hexes to love charms gone amok, you'll find a vast array of spells and curses, creatures and conjurings in this massive collection—not to mention a steamy dose of man-on-man action. Charmed and Dangerous features all-new stories of gay paranormal romance, supernatural fiction and urban fantasy by ten top m/m paranormal authors.
---
Right now, the hottest free goodies are:
Thaw Audiobook
Free audio, read by Gomez Pugh.
View Larger Cover
Download MP3, free (8 minutes)

Play audiobook here in your browser:
Find Among the Living and Criss Cross in audio too!
Excerpt
I'm the last guy in the world who cares about sports, whether we're talking about the Cubs, Sox, Bulls or Bears, or for that matter anything even remotely athletic. So I was a little surprised when Jacob suggested that we take a trip downtown to go ice skating. But nowhere near as surprised as he was when I told him I thought it was a great idea.
What Jacob didn't know was that I'd played pee-wee hockey the winter I was eleven. (I didn't give a rat's ass about hockey. I had a crush on the goalie.) And what I didn't know was that the ice rink would look so cool after sunset. All the bare trees along Michigan Avenue had been wrapped in white Christmas lights, and the whole Chicago skyline blazed behind them. Millennium Park was insanely cold, but it was gorgeous.
Jacob must have figured out that I could skate before we even got out on the ice. Not only is he smart that way, but I'm about as easy to read as a billboard. Even so, he still spent more time checking me out than he did enjoying the scenery. It's weird, the way he stares. He doesn't stop when I catch him at it. He just smiles a little.
Thaw is also available as a free ebook!
JCP Books Cover Art Gallery

Length: 66 page PDF
Cover artist: Jordan Castillo Price

Allow me to brag a little--the tiny jpgs of the cover art for my books just don't do the artwork justice!
Now you can enjoy the cover art in high resolution full color. Got a new gigantic smartphone? How about an iPad or Kindle Fire? Then check it out!
(Note, you can't send this directly to a kindle from here because it's not an attachment, it's a download link. Thanks!)
More Wickedly Wonderful Tales of Gay Romance